COPD Patients Breathing Easier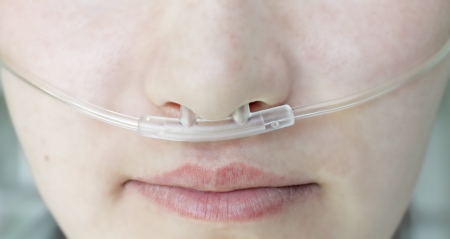 COPD, which is short for chronic obstructive pulmonary disease, is a term used to describe a range of lung conditions including chronic bronchitis, emphysema, some types of bronchiectasis, and refractory asthma. In the initial stages, patients are often asymptomatic, but will typically experience an increasing degree of breathlessness as the disease progresses. COPD is characterized by restricted airflow in the lungs. Other symptoms include wheezing, frequent coughing, and a tight feeling in the chest.
An estimated 30 million Americans suffer from COPD. Worldwide, it affects 600 million people. In about half of these people, the disease is silent and the person is unaware they have COPD. Early screening with spirometry tests can help prevent an irreversible loss of lung function. There is currently no cure for COPD and treatment is primarily symptomatic. Now, researchers are finding that stem cell therapy in COPD patients may prevent further damage from occurring and may improve the person's quality of life.
Real World Evidence
Gary V, a patient of The Lung Institute, received treatment for his COPD using stem cells from his own body and has seen a significant improvement in quality of life. He is happier and feels healthier. "I don't get sick so much anymore. The therapy is working. It's been good," he says. The treatment has helped calm down the inflammation and other symptoms from the restrictive and obstructive lung disease in Gary and many other patients treated at the clinic's Tampa, Nashville, Scottsdale, Pittsburg, and Dallas locations.
Scientific Evidence
A pilot study of 100 patients at The Lung Institute found that stem cell treatment led to improvement in quality of life for 84 percent of the patients within 12 weeks of treatment.
Current treatments for COPD are limited by the inability to stimulate alveolar wall formation. In addition, our understanding of the disease process at a molecular level is incomplete. As a result, treatment for COPD primarily addresses the patient's symptoms rather than slowing the progression of the disease or reversing the changes in the lungs. Bronchodilators and corticosteroids form the mainstay of treatment for COPD.
Stem cells are undifferentiated and multipotent cells, i.e., they can differentiate into many different types of tissues. Human mesenchymal stromal cells produce growth factors and cytokines in large quantities. These bioactive factors give stem cells their inherent anti-inflammatory properties, thus contributing to repair and regeneration in many parts of the body.
Personalized Treatments: The Future of Medicine
Currently, most diseases, including COPD, are treated with standardized therapies which are chosen based on efficacy and safety demonstrated during clinical trials. However, each human being is a unique individual with a varying response to treatment. Stem cell therapy offers the chance to tailor the treatment to each patient's unique disease state by testing the individual's response to the therapy in the laboratory.
Stem Cell Therapy for COPD
Stem cell treatment for COPD is not a miracle cure for the disease, but rather something that can help alleviate symptoms and improve quality of life. This could mean anything from coming off 24×7 oxygen to being able to walk more than a few steps without becoming short of breath. Patients should understand that just like any other treatment, stem cell therapy will not work for everyone. However, for many patients struggling with lifestyle-limiting COPD, stem cell therapy offers real hope that they will be able to breathe easier.
References:
http://www.copdfoundation.org/What-is-COPD/Understanding-COPD/What-is-COPD.aspx
https://copdnewstoday.com/news-posts/2016/06/28/lung-institute-review-stem-cells-not-a-miracle-cure-for-copd-but-still-improving-lives/
https://lunginstitute.com/white-papers/autologous-stem-cell-therapy-and-its-effects-on-copd/