Is PRP a myth or an effective treatment for Male Patterned Baldness?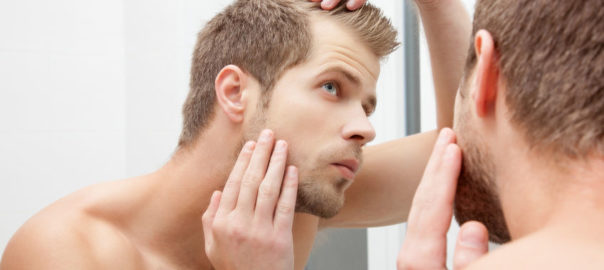 Androgenic alopecia is a common and distressing problem for both men and women. Often caused by genetics, referred to as hereditary hair loss, effects close to 80 million men and women. It is normal for us to lose hair daily but if you notice a bald patch or an increase in thinning you may be experiencing some other type of hair loss.
Hair loss can be caused by:
Diet and Nutrition

Hormonal Imbalances

Genetics

Auto Immune Disease

Disease and Infection

Physiological or Physical Stress

Medications
Diet and Nutrition A healthy diet with the right mix of nutrients, proteins and iron will improve the health of your hair. A strand of hair is made up by a majority of proteins. If you have inadequate protein in your daily diet a disproportionate amount of hair may go into the resting phase
Hormonal Imbalance Sex Hormones play a bigger part in Female hair loss although it all comes down to the Testosterone Estrogen balance in both men and women. Hypothyroid issues have long been known to cause hair loss, shedding and thinning.
Genetics Look at your parents and grandparents head of hair. Androgenic alopecia may be predominately hereditary, especially for men but also for some women.
Auto Immune When the body turns on itself and begins attacking its own systems. Auto immune disease that causes hair loss include Hashimotos thyroiditis, Lupus and alopecia areata.
Disease and Infection Medical conditions that can cause hair loss include Lupus, Lichen planus, and as thyroiditis.
Stress Stress can cause your hair to stop growing by sending a premature number of the hair follicles into the resting phase.
Medications
Many medications are known to cause hair loss. If you are on any medications check that hair loss is not listed as a direct side effect of taking them.
PRP as a Hair Loss Treatment There has been growing interest in PRP as a treatment for androgenic alopecia in the medical community. Platelet Rich Plasma (PRP) is a non-surgical injection treatment that uses the components of a person's own blood to stimulate hair growth. The PRP is processed here in our clinic after a routine blood draw, then processed to remove the concentrated platelets and then reinjected back into the areas of thinning or baldness with a fine needle.
The growth factors found in the PRP include:
PDGF (Platelet Derived Growth Factor) stimulates the growth of dermal mesenchyme.

VEGF (Vascular Endothelial Growth Factor) creates new blood vessels as well as improves hair growth.

EGF (Epidermal Growth Factor) activates the growth phase of the hair follicle and extends the hair cycle that is occurring during the injection of PRP.

FGF (Fibroblast Growth Factor) stimulates the proliferation and the differential of the endothelial cells and the keratinocytes.

NGF (Nerve Growth Factor) stimulates hair growth and acts as a stress mediator on the hair follicle.

IGF (Insulin Growth Factor) slows down cell death.
Numerous studies have concluded that PRP is a simple cost effective treatment that has shown remarkable benefits in the improvement of androgenic alopecia in both men and women. Dermalogic Therapy reported in their January 30, 2017 journal that six months after a single PRP treatment there was significant more hair regrowth than compared to both the 5% minoxidil and the control group.
Best Treatment Schedule Because our hair grows in cycles it is best to treat each of the cycles to get the best results. 4 Initial treatments will yield new hair growth with noticeable improvements in hair thickness and decreased shedding. Optional maintenance treatment would be every 2-6 months. and if you are looking to maximize regrowth and a thickness then maintenance of every 4-8 weeks would be recommended.
References El Taieb MA1, Ibrahim H2, Nada EA3, Seif Al-Din M4. Platelets rich plasma versus minoxidil 5% in treatment of alopecia areata: A trichoscopic evaluation. Dermatol Ther. 2017 Jan;30(1). doi: 10.1111/dth.12437. Epub 2016 Oct 28.
Mak KK1, Chan SY. Epidermal growth factor as a biologic switch in hair growth cycle. J Biol Chem. 2003 Jul 11;278(28):26120-6. Epub 2003 Apr 24.
Pietro Gentile 1,2,*, John P. Cole 3, Megan A. Cole 3, Simone Garcovich 4, Alessandra Bielli 5, Maria Giovanna Scioli 5, Augusto Orlandi 5, Chiara Insalaco 1,3 and Valerio Cervelli 1. Evaluation of Not-Activated and Activated PRP in Hair Loss Treatment: Role of Growth Factor and Cytokine Concentrations Obtained by Different Collection Systems Int. J. Mol. Sci. 2017, 18(2), 408; doi:10.3390/ijms18020408
Schiavone G1, Raskovic D, Greco J, Abeni D. Platelet-rich plasma for androgenetic alopecia: a pilot study. Dermatol Surg. 2014 Sep;40(9):1010-9. doi: 10.1097/01.DSS.0000452629.76339.2b.
Singhal P1, Agarwal S2, Dhot PS1, Sayal SK2. Efficacy of platelet-rich plasma in treatment of androgenic alopecia. Asian J Transfus Sci. 2015 Jul-Dec;9(2):159-62