PRP Therapy Offers Hope to Millions Going Bald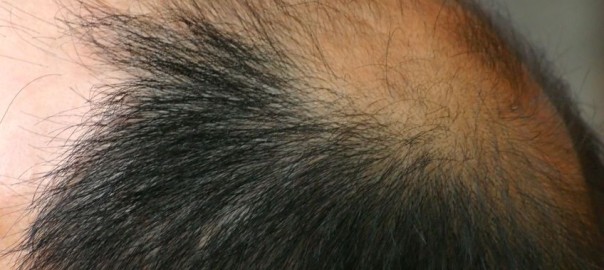 There's good news for the millions of men around the world who have resigned themselves to male pattern baldness. Determined to a large degree by genetics, androgenetic alopecia (androgens are male sex hormones) can begin as early as the teenage years, and it is estimated that more than half the men over the age of 50 will be affected by it to some extent. Hair thinning and hair loss are less common, but perhaps even more demoralizing, in women, resulting in anxiety, low self-esteem, and even depression. Vitamin deficiencies, anemia, thyroid dysfunction, emotional stress, pregnancy, too much vitamin A, a lack of protein in the diet, hormonal changes,  and dramatic weight loss are among some of the non-genetic causes of hair loss in women and men.
Until now, men with receding hairlines had to either live with it or resort to creative hairstyles, wigs, hair pieces, weaves, and hair transplants. Topical application of some medications to the scalp such as minoxidil (Rogaine) and finasteride (Propecia, Proscar) can stimulate hair follicles to grow new hair in some men, but it can take several months to a year to obtain visible results, and these medications are not without some potentially serious side effects.
Leading dermatologists in the United States are now offering new hope to men and women with alopecia, especially the inherited male and female pattern of hair loss. Platelet-rich plasma therapy, commonly known as PRP therapy, in which the patient's own blood is used to create a cocktail of growth-factor-rich fluid which is injected at the offending site, has shown promising results as a non-surgical treatment for hair loss.
The procedure involves withdrawing some of the patient's own blood and separating the components of whole blood in a centrifuge machine. The platelet-enriched plasma is then re-injected into the balding area to kick start the hair follicles into an active growth phase. Tissue reactions occur with a release of enzymes and the attraction of stem cells to the site, which triggers and amplifies the body's natural healing response. A series of four to six treatments spaced approximately two weeks apart has been shown to promote hair growth and rejuvenate thinning hair.
Award-winning dermatologist Charles E. Crutchfield, III, M.D., trained at the Mayo Clinic Medical School and voted among the "Best Doctors in America," reports a dramatic increase in the number of patients inquiring about this groundbreaking treatment at his practice in Eagan, MN, serving St. Paul, Minneapolis, and the surrounding areas. This safe, relatively quick, non-surgical treatment is offering hope to the estimated 100 million Americans suffering from alopecia. New York Dermatologist, Dr. Lawrence Jaeger, with 25 years of experience in conventional hair loss therapies, reports extremely natural results from PRP therapy and is excited by its possibilities in hair restoration. Dr. Jaeger has invested in state-of-the-art equipment at his Central Park offices to make this breakthrough treatment available to New Yorkers.
Let's face it: hair remains a badge of beauty, and for men and women who are tired of the daily struggle to disguise a bald patch with a crafty comb-over, PRP therapy is a beacon of hope for a fuller, healthier head of hair.
References:
http://www.digitaljournal.com/pr/2876133
http://www.prnewswire.com/news-releases/new-york-city-dermatologist-lawrence-jaeger-announces-platelet-rich-plasma-hair-restoration-therapy-at-advanced-dermatology-associates-300233590.html