Stem Cell Therapy Saves Leg from Amputation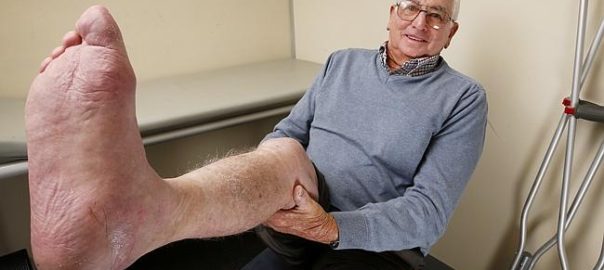 Theresa Wagner of Northland, Missouri, was at high risk of vascular disease. Smoking and heredity had dealt a double blow to her circulation. When Dr. Keith Allen, a cardiovascular surgeon at St. Luke's Hospital, met Theresa four years ago, her foot was badly infected due to very poor circulation. What should have appeared as a map of the bigger vessels in the leg on imaging was apparent only as a web of tiny blood vessels. Theresa was at risk of losing her leg.
Experimental stem cell therapy: Did it save Theresa's leg?
Traditional treatments had failed, and Theresa's only option now was an amputation. She made a decision to participate in a study where she underwent an experimental stem cell treatment. The goal of the therapy was to help grow healthy blood vessels in the diseased extremity. As part of the study, some participants got stem cells obtained from the bone marrow of the hip. Others received a placebo. Because it was a double blind study, to this day, Theresa and Dr. Allen do not know which group she was in.
What was Theresa's experience with the therapy?
Within a few weeks, there was a noticeable difference in Theresa's symptoms. She found she could walk on the treadmill without pain. She received hyperbaric oxygen therapy to treat a pressure sore. She states she felt amazing. "My leg felt like it was 20 years old," she says. Four years later, Theresa is still pain-free and has had no more infections or sores on her leg. Theresa is convinced she got the stem cell treatment and they helped her foot heal. She has quit smoking and is feeling better than ever before.
What did the study results show?
Unfortunately, the study terminated before completion because of funding issues. Dr. Allen states there is little financial incentive to develop therapies that use the patient's own bone marrow. Companies would rather focus on proprietary products that have the potential to bring in millions of dollars.
Growing blood vessels in the lab: What does the future hold?
The possibility of growing blood vessels in the lab sounds like science fiction, but is a palpable reality. Researchers at the University of Gothenburg in Sweden have developed a revolutionary new way of creating new tissue with stem cells. In a study published in the EBioMedicine, they describe a groundbreaking method of growing new blood vessels from two tablespoons of blood in one week. The team consisting of Michael Olausson and Suchitra Sumitran-Holgersson is the first to grow vessels from stem cells obtained from blood. Traditionally, stem cells are obtained from the bone marrow in what is a particularly painful procedure. The blood is naturally rich in growth factors, and the team believes this is what enabled the vessels to grow so quickly. Of the three patients treated in this way, two are showing good results with no sign of rejection. The third patient is a young child who is still being observed.
References:
  http://fox4kc.com/2016/06/24/northland-woman-believes-stem-cell-therapy-saved-her-from-leg-amputation/
 http://www.medicaldaily.com/new-blood-vessel-grows-1-week-when-using-stem-cells-2-tablespoons-blood-307941