What is Regenerative Medicine?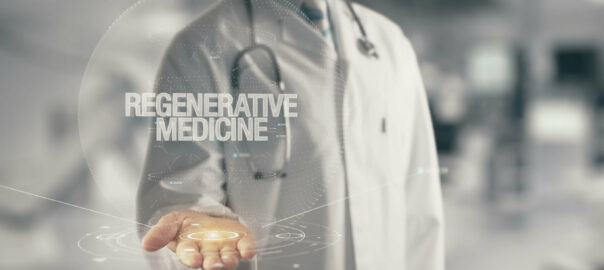 Regenerative medicine has become a disruptor in the healthcare industry for dismissing the traditional medical treatment model of just treating and improving symptoms and instead focusing on repairing and replacing the cells, tissues, and even molecules that are causing the symptoms in the first place. 
What Conditions Can Regenerative Medicine Help?
This revolutionary approach to medical treatment has shown benefits for a wide variety of disease processes and conditions, including:
Diabetes

Arthritis

Headaches

Joint pain

Autoimmune disorders

Cardiovascular disease

Traumatic brain injuries

Skin wounds

Some cancers

Organ failures/transplants
With so many possible treatments already identified and dozens more being actively researched, it's no wonder that regenerative medicine has lept into public view since it first became popularized in the 1990s. 
How Did Regenerative Medicine Get Started?

Some regenerative medicine practices are based on centuries-old practices and techniques from cultures all around the world. However, regenerative medicine didn't become a household topic of conversation until the end of the 20th century.
If you were alive in the 1990s, you probably remember hearing about the burgeoning new field of stem cells. Scientists were excited about all the potential possibilities of stem cell therapies while critics were quick to villainize the research as unethical and unnatural.
What Regenerative Medicine Treatments are Available Now?
Despite their best efforts, the critics lost out and stem cell therapy research has blossomed over the past two decades, bringing with it recognition of a variety of other regenerative medicine techniques, including:
IV therapies

Platelet-rich plasma (PRP)

Tissue regeneration

Prolotherapy

Artificial organ and tissue replacements
Every day, more and more research confirms that regenerative medicine's focus on giving the body the tools it needs to heal and repair itself is the future of medical treatment. At Regenerative Medicine Now, we are proud to be at the forefront of that future by offering a way for regenerative medicine pioneers to connect with patients who need and want their services at www.regenerativemedicinenow.com.
We Connect Regenerative Medicine Practitioners With Patients in Need
Patients can use our free search tool to find regenerative medicine practitioners near them that specialize in their condition or need. Practitioners can claim and update their free profile on the site to make themselves available to the increasing number of people who are seeking out these life-changing treatments. Join us as we continue the push for safe and effective treatments that don't just temporarily relieve symptoms, but instead provide true healing from the inside out with innovative regenerative medicine practices.