Avid Skier Uses Stem Cells to Treat Knee Arthritis, Ends Decades of Ongoing Knee Pain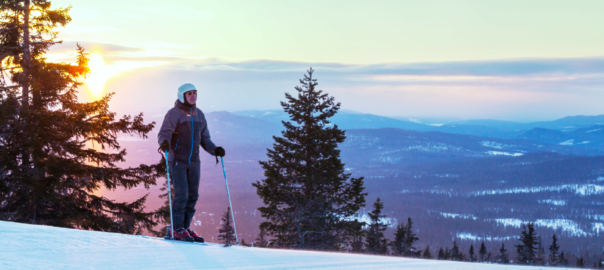 The Patient Profile of a Very Active Athlete
John was a 60-year-old healthy avid skier when he came to see me for a consultation to consider stem cell therapy to treat his painful right knee. The patient's original injury took place while playing high school football at which time he tore his ACL. He recovered from the initial injury but never went on to have the ACL reconstructed.
John spent his entire adult life as a die-hard athlete participating in numerous competitive sports. He played tournament tennis, water-skied, snow skied upwards of 80 days per season and played equally as many competitive rounds of golf every year.
Traditional Treatments Tried
He dealt with his persistent knee pain and swelling throughout all of these years with a combination of non-steroidal anti-inflammatories, staying in top fitness, icing regularly, occasional steroid injections and pure toughing it out.
I had helped to care for John during some of his more intense injuries, which included a lumbar disc herniation, that he recovered from, in full, after a series of spinal injections and a minimally invasive microdiscectomy. In 2012, I had a long discussion with John about his ongoing knee pain and severe arthritis.
Considering Stem Cells for the Arthritic Knee
I explained to him at that time, that if he didn't do something to limit the ongoing damage and positively affect his degenerative knee he was going to need to replace the joint or give up many of the activities he enjoyed. We had a thorough discussion about the risks and benefits of undergoing an autologous fat-derived stem cell procedure in combination with PRP therapy. In the end, he elected to go forward with the stem cell procedure in November 2012.
Treatment Results in Knee Pain Relief

The stem cell procedure was carried out without difficulty and John was back home in Boulder Colorado the next day. Despite my recommendation to avoid golfing and skiing for 3-4 weeks, the patient was back on the golf course 3 days after his procedure. John saw steady improvement in his pain and dramatic decreases in the joint swelling which continued to improve month after month.
Three months following the procedure the patient sent me a text stating that he had just finished 3 days of skiing and had covered over 100,000 vertical feet. He reported that he had little to no discomfort and more importantly he had required no post-skiing icing to diminish his typical swelling. He suggested that this procedure was ready for prime time.
Follow-Up PRP Treatment
In 2014, John underwent an additional PRP injection at the end of the ski season, upon my recommendation, as a prophylactic maintenance measure for the health of the joint. Aside from this injection John maintained an active gym-based exercise regime and stretching routine.
Back to Vigorous Skiing, Away from Icing
In mid-January 2017, I received another note from John stating that he had recently spent five consecutive days skiing at Vail during which time he had skied 180,000 vertical feet and he had required no icing on the knee; something that he couldn't remember being able to do in the past 20 years.